Hello and welcome to our June 2018 blog income report where we show you how much money we made from our blog last month, complete with screenshots and breakdowns of exactly where our money comes from!
We started our blog just over a year ago, and we are already making an amazing income from it!
At the very bottom of this post you will find breakouts of all of our revenue streams to the penny along with screenshots of all of our earnings.
Click here to learn how to start your own blog and sign up for our FREE blogging e-course!
Why Do We Publish Monthly Blog Income Reports?
Now, some of you are new to Money Done Right, and you're wondering why the heck we would share with the world how much money we made from our blog last month.
Here are 3 reasons why we publish blog income reports.
(1) We Want to Inspire Those Thinking About Starting a Blog.
There are so many people out there who would be great bloggers making a good income from home if they only took the first step.
But then the excuses come.
They sound something like this:
Timing

: "It's too late to start a blog. I should have started one in 2008."

Competition

: "There are already so many bloggers out there."

Qualifications

: "I'm not that great at writing."
If these are the kinds of thoughts running through your head, we have this message for you:
Excuses Are Just Comfortable Lies That Get You Nowhere.
Excuses immobilize us. They keep us comfortable, operating at the status quo.
So it feels good to make excuses because they excuse our inaction.
They let you stay in your comfort zone and not do anything.
But they're lies.
While the excuses listed above may seem reasonable, they're not.
Timing

: We started our blog in 2017 and in less than 12 months are making over $10,000 a month from it. You are

not

late to the party.

Competition

: Our niche, personal finance, has literally hundreds of bloggers (probably over 1,000 by now) in it. And yet we still succeeded.

Qualifications

: We're accountants by trade for goodness' sake. We're like the antitheses of good writers. Do we have the ability to communicate ideas in writing? Yes. But are we skilled wordsmiths? No.
The Time to Begin Is Now.
It was Walt Disney who said, "The way to get started is to quit talking and start doing."
Do we wish we had started our blog in 2008? Of course we do! But we are sure glad that we started it in 2017 rather than waiting a year or two or five to get started.
The time is now to start a blog, and we hope that by sharing our story, we inspire some of you to take that first step and start yours.
Click here to learn how to start your own blog and sign up for our FREE blogging e-course!
(2) We Want to Motivate New Bloggers Who Are Struggling.
Blogging, like anything, can be difficult in the beginning.
You're starting something new and putting a lot of effort into it.
And you might not see big results for a while.
Our message to you is to keep going!
We had our share of failures at first. Don't believe us? Check out the story below.
We Had to Rebrand Our Blog 5 Months After We Launched.
Did you know that Money Done Right used to be known as Millennial Money Club?
That's right. Check out the domain name record below.
We launched Millennial Money Club on February 4, 2017, and we were so happy! ?
But 5 months later, in July 2017, we found out that the phrase "Millennial Money" had already been trademarked and that if we were ever going to grow our blog into a bona fide business, we would have to use a different name.
When we found that out, we were so sad! ?
But instead of sulking for days on end, decided to take action.
We thought up a new name for our blog and ended up with Money Done Right. (Sorry, Moneydew and Money Rabbit.)
But that was just the beginning.
See, there were already a lot of links out in cyberspace linking to Millennial Money Club, so we had to redirect all of these links to the new Money Done Right domain.
It felt like so much work at the time, and we could have given up, but we kept going and going and going.
You Can Do This. Keep Going.
We don't share our struggles with you to seek your pity.
We share them with you to show you that it's OK if it feels tough to keep on blogging right now.
When we had to rebrand 5 months into putting so much effort into our blog, that was tough.
We could have packed our bags and quit, being content with a status quo life like everyone else.
But we didn't. We licked our wounds and carried on.
And we hope that you do too.
Click here to learn how to start your own blog and sign up for our FREE blogging e-course!
(3) We Want to Remember Where We've Been.
We love reading autobiographies and personal journals of those who have made it to the top in their field.
Now, while we're far from the top of the blogging game, we hope to be there someday.
And when we get there, we hope that we can look back, month-by-month, and see where we've been.
How Was June 2018 for Our Blog?
We earned $28,649 blogging in June 2018, before expenses.
June was actually our best month so far in terms of blogging income!
Our Best Month Ever!

Yes, that's right! We had our best month ever blogging!
How did we do it?
Well, since Logan quit his job in March, he has been able to devote nearly all his energy to blogging.
This has meant that he has been able to do things like:
Produce a lot of blog posts
Create more Pinterest pins
Post more on Facebook
And more!
Our Humble Beginnings
Now, while we are making a good income from this blog, we want to remind you that it wasn't always this way.
Here is what our blog looked like when it first started. Needless to say, we didn't make any money that month.
So just like some of you, we started at $0 income per month.
Then we made $10 a month.
Then $1,000.
Then $10,000.
$28k a Month Heck Yeah
And now we're making over $28,000 in one month!
So we're here to tell you that yes, it is very much possible to start a blog from scratch and grow it from $0 to $1,000 to $10,000 to $28,000 a month all in a relatively short amount of time!
Click here to learn how to start your own blog and sign up for our FREE blogging e-course!
June 2018 Blogging Income Breakdown

In June of 2018, we earned $28,649.28 from our blog. Below is a breakout of this income.
Advertising income (Mediavine): $2,484.36
Affiliate income: $26,164.92


Work From Home Affiliate Programs: $11,865.48

Survey companies: $9,636.50
VIPKid: $36.00
SayABC: $10.00

ShopTracker

: $128.00
Udemy: $4.00
Airbnb: $112.00
Nielsen Computer & Mobile Panel: $456.00
ZipRecruiter: $0.98
Swag IQ: $1,482.00

Saving Money Affiliate Programs: $6,243.50
Finance Affiliate Programs: $4,397.21
Cryptocurrency Affiliate Programs: $657.00

Binance: unknown quantities of various cryptocurrencies the dollar value we don't have time to determine at this point

Sweatcoin

: $657.00

Blogging Affiliate Programs: $856.20

Bluehost

: $595.00
PicMonkey: $109.82
ConvertKit: $17.40
StudioPress: $34.98
Build Your Blog: $99.00

Household Affiliate Programs: $3.15

Amazon Associates: $-11.55 (due to returned products)
Q Link Wireless: $8.40

Miscellaneous affiliates that we do not disclose: $2,146.68
Click here to learn how to start your own blog and sign up for our FREE blogging e-course!
June 2018 Blogging Income Screenshots
When we were first determining whether or not blogging was something we wanted to pursue, we were very interested in seeing other bloggers' screenshots of their earnings to make sure they weren't all just full of it.
Unfortunately, we couldn't find very many bloggers' screenshots out there!
So we decided that if we ever started making good money blogging, we would be sure to share our earnings screenshots with our audience.
And here they are! Enjoy!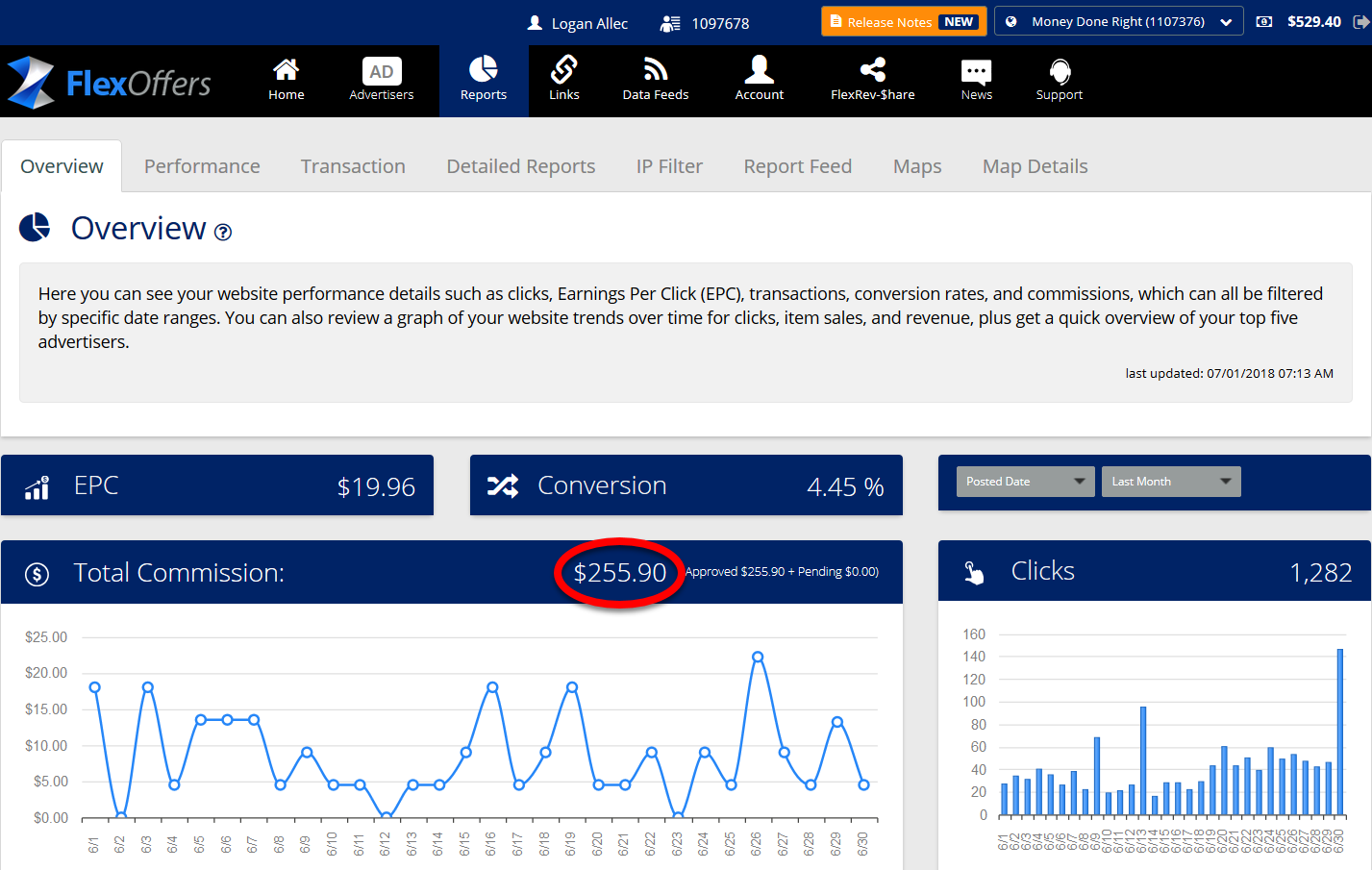 Do You Want to Start a Blog?
Anybody can start a blog and publish a few posts and maybe make a few bucks.
But doing it right so that you can make $100, $1,000, or even $10,000 a month takes a whole lot of effort, and we've made our fair share of mistakes along the way.
Click here to learn how to start your own blog and sign up for our FREE blogging e-course!